Dissidia December: Day 6
By:
December 8, 2010, 1:25 pm
|
Two years ago, Dissidia: Final Fantasy was released to celebrate the 20th anniversary of the ongoing series. Fans were treated to a truly unique fighting game that was both complex and visually interesting. Some fights looked as if they had been pulled directly from Final Fantasy VII: Advent Children even though it was all gameplay. But by far, the best part of the game for fans was seeing all the main heroes and villains, along with two secret characters, interacting with one another. It led to scenarios that no one thought they'd ever see outside of fan fiction.
With the announcement of Dissidia 012 [Duodecim]: Final Fantasy, Square Enix promises to bring back everything that made the first game great along with new enhancements and new characters. Kain from Final Fantasy IV, Lightning from Final Fantasy XIII, Tifa from Final Fantasy VII, and Vaan from Final Fantasy XII have already been announced with the promise of more being unveiled as the game nears its release in Japan early next year. With that in mind, I thought it'd be interesting to look over all of the characters to ever appear in a Final Fantasy and choose the 46 that have the best shot at being a part of the sequel. Every weekday in December will highlight two potential fighters and give details on their history, their place in Duodecim's story (which is actually a prequel to the original), and their fighting potential.
Welcome to Dissidia December.
Enuo (Final Fantasy V)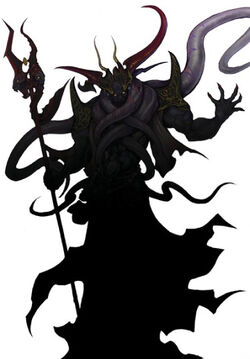 Enuo is a unique character in that he was never seen in the original Final Fantasy V, only mentioned as Exdeath's predecessor. It wasn't until Final Fantasy V Advance that he was properly designed and placed inside as a powerful secret boss. Enuo's story began 1000 years before the start of the game when he decided to trade his immortality for control of the Void. With this immense power at his command, he wreaked havoc on the world until he was defeated by the combined might of the twelve sealed weapons and the crystals. He was then placed in the interdimensional rift created by splitting the crystals in two and eventually consumed by the Void. However, his essence lived on until he was challenged by Bartz and his friends. For Duodecim, Enuo could be the ultimate power and a rival to both Cosmos and Chaos. His threat would be so great that characters from both sides would have to team together to defeat him, including Exdeath who craves his power.
Due to his power, Enuo would have to be an extremely difficult to unlock secret character. He would have the highest of all stats in the game and be able use every type of magic. His physical attacks would rely on his staff and the tentacles that stem from his body. More than likely, Enuo would come across as extremely cheap so it might be better to leave him as a secret boss for Duodecim or limit his power once players could take control of him. He would still be incredibly powerful of course, but not the unstoppable force that he begins as. His EX Mode would cause the Void to open up above the arena, draining his opponents Bravery. Enuo's EX Burst would unleash Dimension Zero which would banish his opponent to another dimension where their health is drained and sealed away, unable to be recovered. Enuo would be a great character to play around with but perhaps too powerful to be used in competitive play.
Locke (Final Fantasy VI)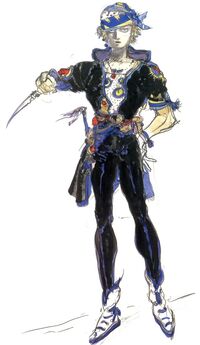 From a young age Locke was trained by his father to be a treasure hunter. However, when his father died many of the people of his village began to regard him as a common thief. The only one who did not was a girl named Rachel and the two soon fell in love. Unfortunately, her father did not approve of the union and so in order to prove himself, he went to explore a dangerous cave with Rachel. When they were crossing a rickety bridge, it gave way and Rachel saved Locke but ended up taking a deadly fall. She survived but suffered from amnesia and Locke was banished from the village by her father. Years later, Rachel was killed during an Imperial attack on the village, and Locke vowed to protect every woman he came across while joining the Returners in order to fight the Empire. Locke eventually becomes embroiled in the fight to protect Terra and save the planet. Duodecim could build on this background by having Locke concentrate mainly on protecting the females of the group while seeking redemption for his previous failings. He could also have a friendly rivalry with Zidane since the two of them are both thieves.
Like Zidane, Locke would be primarily focused on speed but unlike Final Fantasy IX's thief his main weapon would be the dagger known as the Zwill Crossblade. The small nature of his weapon would make his attacks fast and hard to predict. In addition, his skills as a thief should not be ignored as one of his attacks could be Mug, which would simultaneous damage his opponent while having a small chance of temporarily stealing a piece of their equipment and rendering it useless. Locke would also be incapable of casting magic, instead relying on a boomerang to deal long range damage. His EX Mode would increase the chances of a successful steal while his EX Burst would utilize his Desperation Attack, the Mirage Dive. The attack increases Locke's speed exponentially to make it seem like there's dozens of him before going in for the final blow. Locke would be designed for players who value speed more than anything else in their fighters.
These are only my choices. What do you think? Would Enuo and Locke make great characters in Dissidia 012 [Duodecim]? Who would you like to see in the sequel? Let us know in the comments!
blog comments powered by

Disqus
---
---