Dissidia December: Day 7
By:
December 9, 2010, 12:26 pm
|
Two years ago, Dissidia: Final Fantasy was released to celebrate the 20th anniversary of the ongoing series. Fans were treated to a truly unique fighting game that was both complex and visually interesting. Some fights looked as if they had been pulled directly from Final Fantasy VII: Advent Children even though it was all gameplay. But by far, the best part of the game for fans was seeing all the main heroes and villains, along with two secret characters, interacting with one another. It led to scenarios that no one thought they'd ever see outside of fan fiction.
With the announcement of Dissidia 012 [Duodecim]: Final Fantasy, Square Enix promises to bring back everything that made the first game great along with new enhancements and new characters. Kain from Final Fantasy IV, Lightning from Final Fantasy XIII, Tifa from Final Fantasy VII, Vaan from Final Fantasy XII, and most recently Laguna Loire from Final Fantasy VIII have already been announced with the promise of more being unveiled as the game nears its release in Japan early next year. With that in mind, I thought it'd be interesting to look over all of the characters to ever appear in a Final Fantasy and choose the 46 that have the best shot at being a part of the sequel. Every weekday in December will highlight two potential fighters and give details on their history, their place in Duodecim's story (which is actually a prequel to the original), and their fighting potential.
Welcome to Dissidia December.
Sabin (Final Fantasy VI)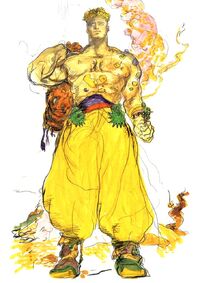 Sabin is the prince of Figaro along with his twin brother, Edgar. The two were close up until their father was poisoned by the Empire. Sabin was aghast that the people around him were more concerned about placing a successor rather than avenging his father. He tried to leave the kingdom with Edgar but his brother insisted on forsaking his own freedom because the people needed someone to lead them. Sabin understood that his brother would be a better ruler than he and sought the freedom of travelling the world. He came under the tutelage of a martial arts master and perfected his skills until the day he was reunited with his brother. Together, they joined the Returners and fought against the evils of the Empire and, eventually, Kefka. Sabin prefers to stay out of the limelight and help those he trusts with their goals. He will always take a fight head-on and leaves the planning to others. His story in Duodecim could pull from Sabin's training and make him view all of the events as a way to get stronger and help his brother. A secondary goal would be his desire to keep his freedom and do whatever he feels is right.
Sabin's mastery over hand to hand combat is what would make him an interesting character to play as in Duodecim. Where other characters at least have some reach thanks to their weapons, Sabin has to rely on getting in close and punishing his opponent. His attack and defense would be the highest in the game but his speed would be only average. The trick for players here is finding a way to get in close and absolutely destroy their opponent once they do. Sabin's special moves would all be pulled from his Blitz attacks, allowing him to pull off a wide range of special abilities that will add elemental damage and grant him greater range. His EX Mode would equip claws and increase his strength while his EX Burst would unleash his Tiger Break. The Tiger Break would pummel his opponents bodies before slamming them into the ground and causing wall rush damage as well. Players who prefer enormous strength above all else will find plenty to like about Sabin.
Shadow (Final Fantasy VI)
Shadow is not given the warmest of initial receptions when he's first introduced in Final Fantasy VI. As a mercenary, Shadow will take any job for the right price and use his skills as a ninja to make sure it's done effectively. He's joined on these missions by his dog, Interceptor, the only thing he generally shows affection for. Eventually, it's discovered that Shadow was once a thief who had abandoned his long time partner after they were caught and eventually settled down with a wife and child. He soon learned that his past would catch up with him so he cut all ties to his happy life and trained himself to be a ninja without emotions. By the end of the game Shadow has achieved some level of happiness, having formed a bond with the rest of the party and reuniting with his daughter. His story could work on some level with Duodecim. The ideal place to concentrate would be the way he cuts himself off from others and refuses to show any kind of emotion. Every time he does, he's hurt in some way and would prefer to do his duty without making any kind of commitment.
As a ninja, Shadow would be primarily focused on attacking and speed. He would be able to get in close, make a few strikes, then get out of there. If he is caught in a combo, it will more than likely take out a good portion of his health due to his low defense stat. His weapon of choice are small daggers but he would also be able to use deadly hand to hand techniques. Shadow would also use the trademark Throw ability. I'm not sure if it would be better to have the item he throws be random or have it be a special extra slot that can be equipped and upgraded as he levels up like the other equipment. Shadow's EX Mode would increase his speed and range, making him able to attack from almost anywhere in an arena. His EX Burst would call in Interceptor so the two could perform his Desperation Attack, Shadow Fang. The two would team up against their opponent, slashing and biting before kicking him away. Shadow is another speed character to give players who like that type of fighter a bit of variety.
These are only my choices. What do you think? Would Sabin and Shadow make great characters in Dissidia 012 [Duodecim]? Who would you like to see in the sequel? Let us know in the comments!
blog comments powered by

Disqus
---
---