Dissidia December: Day 12
By:
December 16, 2010, 1:58 pm
|
A few years ago, Dissidia: Final Fantasy was released to celebrate the 20th anniversary of the ongoing series. Fans were treated to a truly unique fighting game that was both complex and visually interesting. Some fights looked as if they had been pulled directly from Final Fantasy VII: Advent Children even though it was all gameplay. But by far, the best part of the game for fans was seeing all the main heroes and villains, along with two secret characters, interacting with one another. It led to scenarios that no one thought they'd ever see outside of fan fiction.
With the announcement of Dissidia 012 [Duodecim]: Final Fantasy, Square Enix promises to bring back everything that made the first game great along with new enhancements and new characters. Kain from Final Fantasy IV, Lightning from Final Fantasy XIII, Tifa from Final Fantasy VII, Vaan from Final Fantasy XII, and most recently Laguna Loire from Final Fantasy VIII have already been announced with the promise of more being unveiled as the game nears its release in Japan early next year. With that in mind, I thought it'd be interesting to look over all of the characters to ever appear in a Final Fantasy and choose the 46 that have the best shot at being a part of the sequel. Every weekday in December will highlight two potential fighters and give details on their history, their place in Duodecim's story (which is actually a prequel to the original), and their fighting potential.
Welcome to Dissidia December.
Rinoa (Final Fantasy VIII)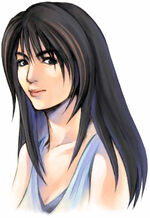 Despite being Squall's love interest in Final Fantasy VIII, Rinoa is the complete opposite of him. She is feisty, compassionate, warm, and brave. Though she was raised in a privileged life since her father was an important military official in Galbadia, Rinoa was never spoiled and is actually concerned about world politics. She rebels against her father and joins a rebel group in order to grant Timber its independence. However, the rebels are unable to do this on their own so Rinoa hires SeeD mercenaries to help in the effort. It is then that she finally meets Squall and her true story begins. Over the course of Final Fantasy VIII Rinoa and Squall become closer as they are thrust from battle to battle in an effort to stop Galbadia, who is being controlled by the Sorceress Edea. When Edea is finally defeated, Rinoa becomes comatose, and it is revealed that Sorceress Ultimecia had been possessing Edea and now Rinoa. Though Squall and the others try to protect her and she's willing to sacrifice herself for the sake of the world, Rinoa is ultimately taken over by Ultimecia a final time allowing the sorceress to cast Time Compression, a spell that would condense all of time and space into a single point. Once this has occured, Ultimecia could reshape the world however she saw fit. Fortunately Rinoa and the others have enough time to confront Ultimecia and ultimately defeat her, freeing Rinoa permanently from her control. This relationship between Rinoa and Ultimecia would work well in Duodecim with Rinoa fighting the sorceress to maintain control of herself while Ultimecia attempts to bend Rinoa to her whim.
Though Rinoa is in danger for much of Final Fantasy VIII, she is not weak which is even more impressive considering that she's the only fighter who doesn't have formal military training. Utilizing a unique weapon called the Blaster Edge, which sends out a boomerang-like disc from a contraption on her wrist, Rinoa is a long range fighter with few options for close combat. Though her defense would be low, her speed and magic would make up for it. She would have quite a few spells at her command to help keep enemies off balance. Another tool in her arsenal would be her faithful dog, Angelo, who would randomly join her battles from time to time. Whenever he appears, Angelo would do one of three possible actions: Angelo Rush, where he rams into an enemy, Angelo Recover, where he heals Rinoa, and Angelo Strike, which is an aerial takedown of an enemy. Rinoa's EX Mode would be Angel Wing which causes her to sprout wings and increases her magic five times over. This immense increase in power would come at a cost though with her EX meter depleting twice as fast as any other character. Her EX Burst would cast Apocalypse and send out a magical seal below her opponent before a beam of light explodes from it. While Rinoa isn't the strongest character when in her normal state, she is one of the most powerful available when in her EX Mode. Players willing to brave this situation would find a great fighter in Rinoa.
Quistis (Final Fantasy VIII)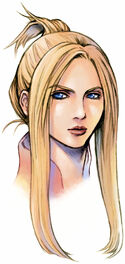 Quistis is a child prodigy and an instructor at Balamb Garden. She often tries to maintain a cool and calm disposition, but she is still only eighteen and longs for more personal relationships with the students. Quistis begins the game as Squall's teacher, but when she steps up to protect him, Zell, and Selphie during a field test, she has her teaching license revoked. However, she is still a SeeD and is eventually tasked with bringing back the rogue Seifer and assassinating Sorceress Edea. The plan fails and eventually she and the rest of the group are caught up in a fight to save the world from Ultimecia's Time Compression. It is during this journey that they learn that all of them except Rinoa grew up in the same orphanage together but forgot due to constant use of Guardian Forces, Final Fantasy VIII's summons. Eventually Quistis and the others are able to put a stop to Ultimecia's plans with Quistis learning how to be more personable with those around her. Duodecim could play up Quistis's role as a teacher and have her constantly trying to instruct the others to do the right thing but secretly wishing to just pal around with them.
In all honesty, Quistis doesn't have the most interesting of story arcs in Final Fantasy VIII, but she makes up for it in pure fighting capability. Using a whip, Quistis would be all about medium range grapples and attacks. She would have a high attack with average speed and defense. A small list of basic magic spells would be at her disposal as well. Her moveset would focus on interesting combos utilizing her whip with her able to go toe to toe with most opponents in the game. Quistis's EX Mode would activate her Blue Magic and allow her to throw out special attacks used by recognizable monsters from throughout the series. Her EX Burst would be Shockwave Pulsar, an attack that pulls enemies into the sky before being blasted by a gravitational ball of energy. Players who want to use a unique weapon and have access to some of the most unique attacks in the game would feel right at home with Quistis.
These are only my choices. What do you think? Would Rinoa and Quistis make great characters in Dissidia 012 [Duodecim]? Who would you like to see in the sequel? Let us know in the comments!
blog comments powered by

Disqus
---
---