Dissidia December: Day 17
By:
December 23, 2010, 3:15 pm
|
Two years ago, Dissidia: Final Fantasy was released to celebrate the 20th anniversary of the ongoing series. Fans were treated to a truly unique fighting game that was both complex and visually interesting. Some fights looked as if they had been pulled directly from Final Fantasy VII: Advent Children even though it was all gameplay. But by far, the best part of the game for fans was seeing all the main heroes and villains, along with two secret characters, interacting with one another. It led to scenarios that no one thought they'd ever see outside of fan fiction.
With the announcement of Dissidia 012 [Duodecim]: Final Fantasy, Square Enix promises to bring back everything that made the first game great along with new enhancements and new characters. Kain from Final Fantasy IV, Lightning from Final Fantasy XIII, Tifa from Final Fantasy VII, Vaan from Final Fantasy XII, and most recently Laguna Loire from Final Fantasy VIII have already been announced with the promise of more being unveiled as the game nears its release in Japan early next year. With that in mind, I thought it'd be interesting to look over all of the characters to ever appear in a Final Fantasy and choose the 46 that have the best shot at being a part of the sequel. Every weekday in December will highlight two potential fighters and give details on their history, their place in Duodecim's story (which is actually a prequel to the original), and their fighting potential.
Welcome to Dissidia December.
Rikku (Final Fantasy X)
A girl with boundless energy and strong determination, Rikku is Yuna's cousin and an Al Bhed. The Al Bhed are widely considered heathens by the people of Spira because they do not follow the teachings of Yevon. Despite this, Rikku begins the game desperately trying to stop Yuna's pilgrimage because she is well aware of the sacrifice it entails. When she is defeated by Tidus, Rikku decides that it would be better to join the pilgrimage and protect Yuna from within. She pleads with Yuna throughout the game to give up on her journey, but Yuna is steadfast and Rikku continues to stand by her. By the end, it is revealed what the true teachings of Yevon meant and Yuna decides not to sacrifice herself much to Rikku's delight. From that point on, Rikku is even more determined to protect Yuna. For Duodecim, Rikku would have a similar story with her trying to defend Yuna, but also trying to find a way to defeat Chaos without her cousin sacrificing herself.
Rikku's fighting style is the most similar to the thief job class. Her speed is incredibly high with an above average attack but low defense. Rather than using the claws from her appearance in Final Fantasy X, she would utilize the large daggers she wields in Final Fantasy X-2. Her attacks would mostly be quick strikes and combos with the exception of her long range abilities which would draw from her chemist skills and allow her to throw particularly devastating concoctions. Rikku's final unique move would be Copycat which would allow her to use her opponent's previously used attack. Her EX Mode would allow her to throw multiple concoctions at a time and great increase her speed. Rikku's EX Burst would call upon the Machina Maw Dressphere from Final Fantasy X-2. The beast-like machine would slam into her opponent and allow her to jump on before it unleashes a flurry of laser beams. Players looking for a fast character with some interesting quirks would find a lot to love about Rikku.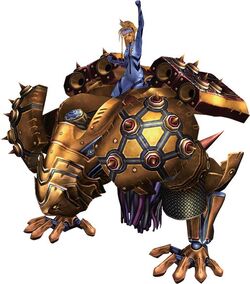 Yunalesca (Final Fantasy X)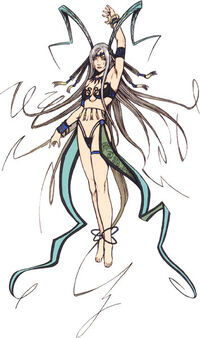 Yunalesca was the first Summoner to ever defeat Sin using the Final Aeon. As an Unsent, she became the guardian of the tradition, and the one to make Summoners choose which of their Guardians would be sacrificed. For a millennium, she followed this path until she was challenged by Auron. Though she was able to kill him, his return with Yuna made all the difference in her future defeat. Yuna was able to see the pointlessness of the sacrifice and Yunalesca decided to free the young summoner from her foolishness by killing her. However, Yunalesca was ultimately defeated leaving the party with no choice but to find another way to stop Sin. Yunalesca is not inherently evil, she is merely following the path laid out before her. She sees the cycle of Sin as an inevitable tradition that must be upheld. For Duodecim, she would follow the teachings of Chaos, seeing his cycle of endless battle for the warriors as yet another tradition that must be upheld.
Yunalesca would be a very powerful warrior that utilized spells more than physical attacks. Most of her spells inflict her opponents with the Zombie status before pummeling them with healing attacks. Since they are Zombies, the cures actually hurt them. It's a unique take on battle with the player needing to keep his opponent a zombie in order to effectively defeat them with magic. Otherwise, Yunalesca is incredibly agile and able to deal out physical damage easily. Her EX Mode would transform her into her second form, making Yunalesca slower but much stronger in attack and defense. Finally, her EX Burst would transform her into her final form and unleash all the abilities at her command. Players looking for a supremely versatile character with different attack strategies would find Yunalesca unmatched in her ability to control her opponents.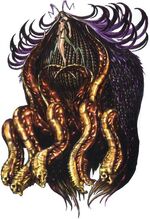 These are only my choices. What do you think? Would Rikku and Yunalesca make great characters in Dissidia 012 [Duodecim]? Who would you like to see in the sequel? Let us know in the comments!
blog comments powered by

Disqus
---
---